Cart
0
Your cart is currently empty.
Vertere Phono-1 MkII MM/MC phono pre-amp
Kaina:
Tax included
Pristatymas per 7-14 d.d.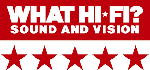 The new MC | MM Preamplifier PHONO-1 MkII L gets the best from any high-quality record player, with maximum dynamic range and supreme detail resolution. With more than 10 gain settings, 15 resistance and 9 capacitance settings, PHONO-1 MkII L leaves nothing to chance. It makes the perfect match for almost any Moving Magnetor Moving coil cartridge.