Cart
0
Your cart is currently empty.
DALI Rubicon 8 grindinės garso kolonėlės
Kaina:
Tax included
Contact us for delivery term
Aukštos klasės DALI grindinės garso kolonėlės. Nuostabi garso scena ir įtraukiantis gilus bosas. 
Nurodyta poros kaina.
The floor standing flagship of the RUBICON series, the RUBICON 8, will provide you with a mind blowing large soundstage and an impressive deep, physical bass. The RUBICON 8 has no less than three drivers that all kick in at different frequencies. This setup ads up to what in effect is a 2½+½+½-way construction, and generates an amazing range and impressive sound pressure. The RUBICON 8 is for those seeking the extraordinary in size and sound.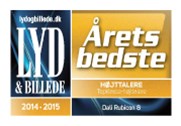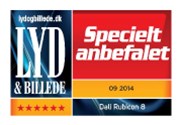 Dažnių juosta: +/- 3dB : 38 - 34.000 Hz
Nominali varža: 4 Omai
Jautrumas: (2,83 V/1 m): 90,5 dB
Maksimalus jautrumas: 111 dB
Rekomenduojama stiprintuvo galia: 40-250 W
Filtro dažnis: 500/800/2.500/14.000 Hz
Filtro principas : 2½ + ½ + ½ juostos
Hibridinis aukštų dažnių modulis, super aukšto dažnio garsiakalbis: 1 x 17 x 45 mm
Aukštų dažnių garsiakalbis: 1 x 29 mm minkštos tekstilės kupolas
Žemų dažnių garsiakalbiai: 3 x 165 mm miedienos pluošto membrana
"Bass Reflex" dažnis: 33.5 Hz
Įvestis: Bi-Wiring
Rekomenduojama vieta: ant grindų
Rekomenduotinas atstumas nuo sienos: 20 - 180 cm
Matmenys su pagrindu (AxPxG) [mm] 1100 x 220 x 455
Svoris [kg] 27,3